Day Shift
DAY TIME SCHECULE
6:00

Staff start coming into the office

6:30

Morning briefing

7:00

Auction

9:00

Negotiation with buyers

11:30

Lunch break

13:30

On-site product packaging

14:30

Delivering products to supermarkets

16:00

Back to office to do some desk work, check next day's orders, and give instructions

19:00

Go out for drinking
Works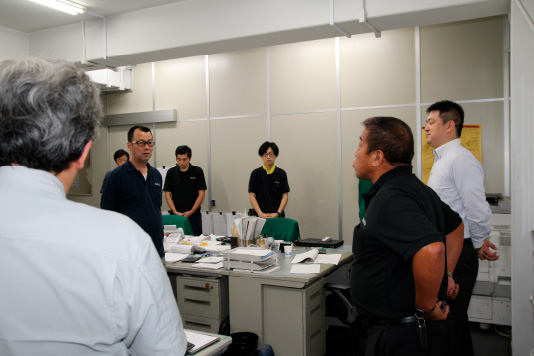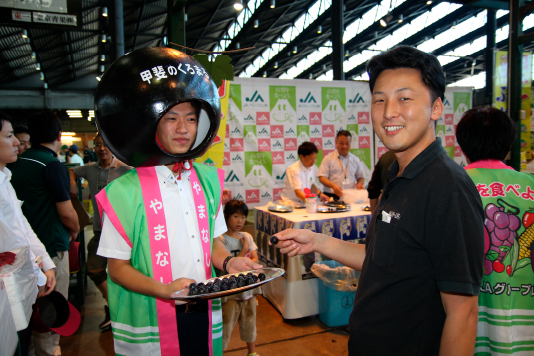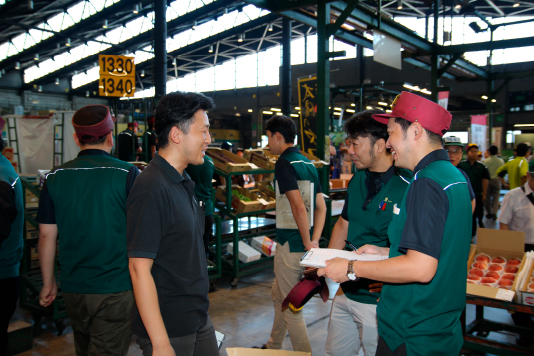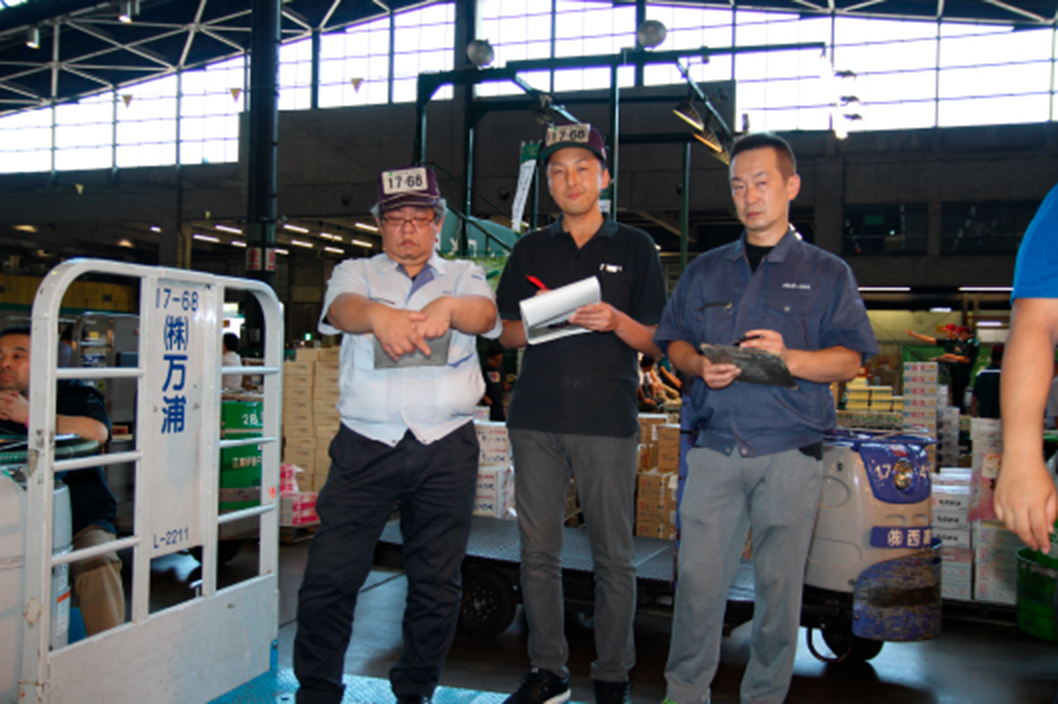 Night Shift
NIGHT TIME SCHECULE
20:00

Staff start coming into the office

20:30

Briefing

21:00

On-site shipping and loading products according to instructions

4:00

Clean outside the company
Works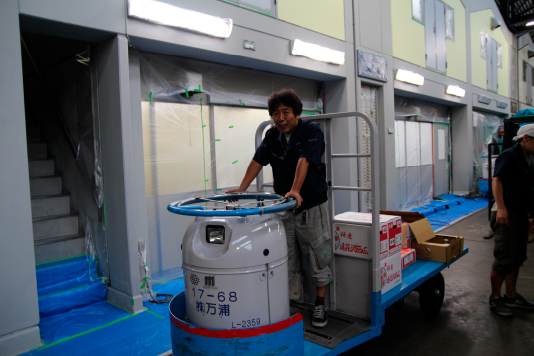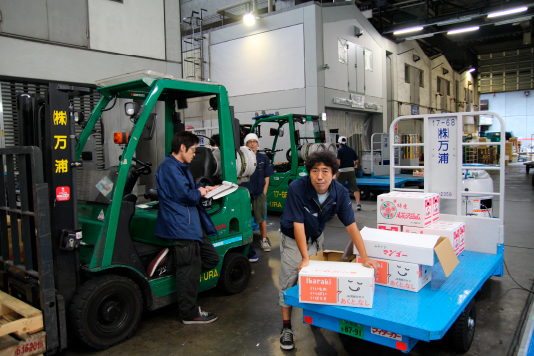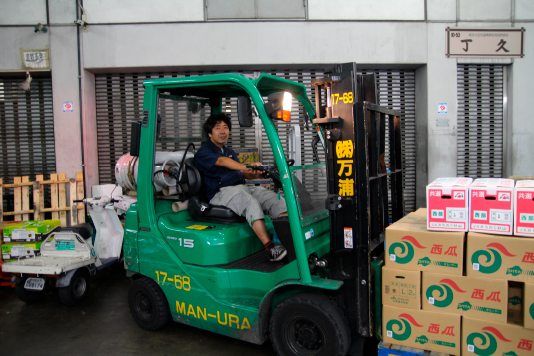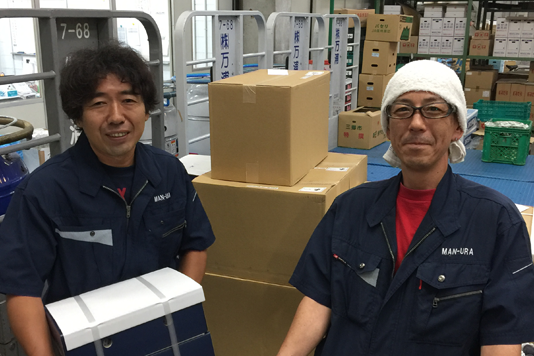 STAFF INTERVIEW

nterviewing staff members with different questions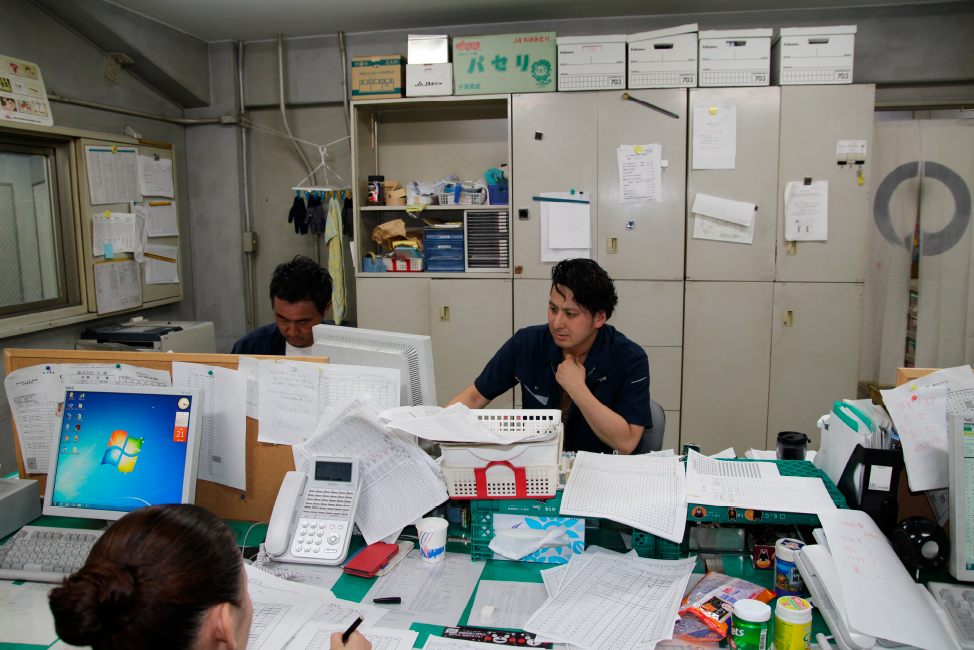 OSHIMA SENPAI 大島先輩
この会社に入ってびっくりしたことは?
野菜の物量の多さに驚きました。
市場は休むことがない場所で、日々たくさんの野菜が動きます。
とまと100ケース・きゅうり200ケース・レタス100ケース・・・
入社した当初は100ケースを超える野菜が日々動くのに驚かされます。
考えれば、野菜はいつでも食卓に何らかの形で出てきます。
それが、すべての家で出てるとなると相当な野菜が消費されています。
たくさんの物量が動くのも当然といえば当然かもしれません
あなたがこの会社でやってみたいことはなんですか?
やってみたかった事は、現状ではかなっていますが、担当を持つことでした。
野菜部では野菜品目ごとに担当を持つのではなく、取引先様ごとに担当をもたせてもらってます。
取引先様が取り扱っている商品すべてを網羅しなくてはいけないので担当した当初はかなり大変で、
失敗も多くかなり辛い思いもしました。
まだ入社してから4年ですが、ある程度の相場感・野菜の知識がついて、お客様に野菜の提案・価格
訴求ができる商品の提案が不器用ながらできてるかなぁと実感し、成長も感じています。
やってみたかった事がかなっている状態ですが、引き続きお客様にいい商品を提供できるよう心がけて
いきたいと思います。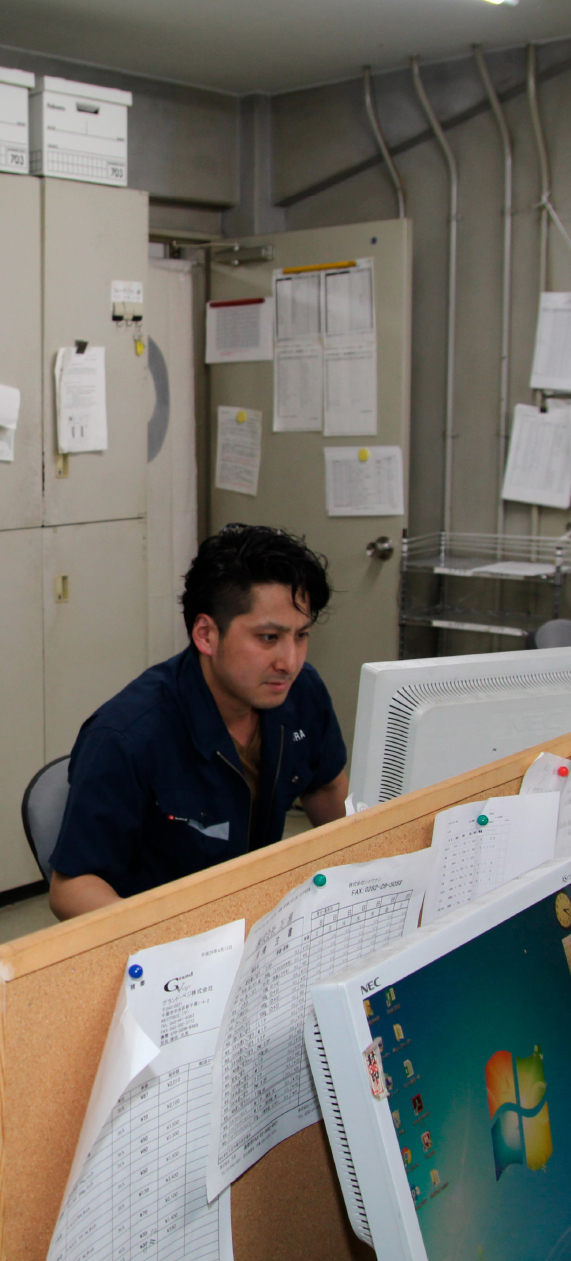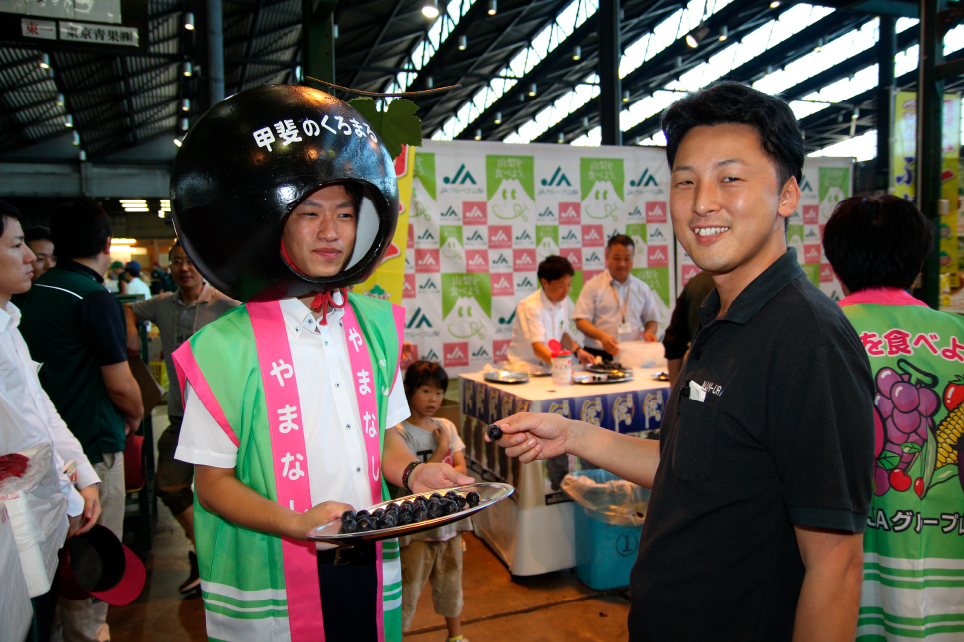 KASHIMA SENPAI 鹿島先輩
あなたが最近食べた「うまい!」と思った果物はなんですか?
秋田県産の「あきた夏丸チッチェ」という小玉西瓜です。果肉が硬く皮近く
まで甘みがあり、シャリっとした食感で暑い夏にぴったりの果物です。
一玉食べれてしまう程おいしい味の小玉西瓜です。
関東ではあまり見かけない商品ですので見かけたら是非食べてみてください。
万浦に入社して面白いと思ったことは?
市場に務めて今年で三年になりました。
右も左もわからず、毎日仕事を覚えるのに必死です。
でも、上司や先輩に助けられ今では仕入から商談までやらせてもらえるようになりました。
自分が携わった商品が店頭に並んで、それをお客様が購入されていると
思うとうれしくとてもやりがいを感じます。
また、新商品や季節商品を試食できるのが楽しみのひとつです。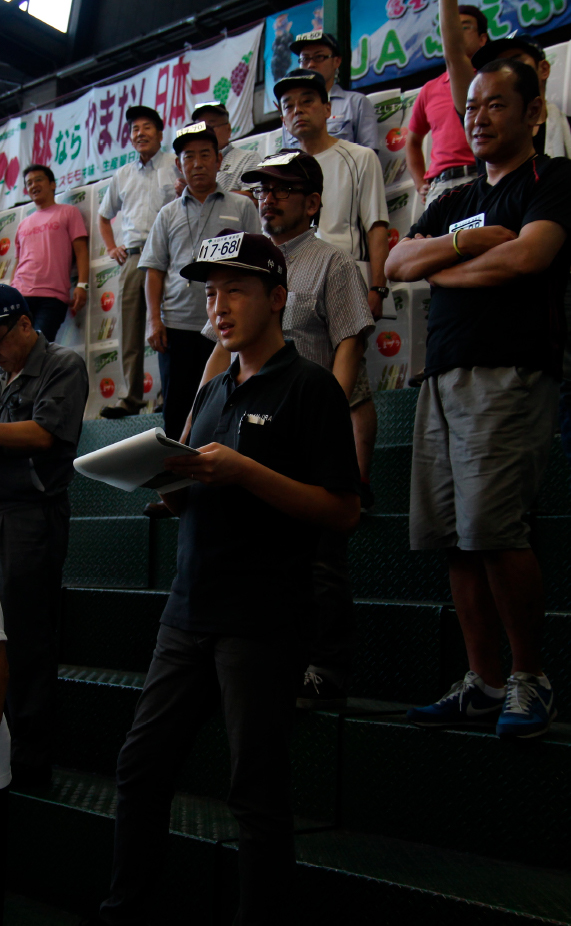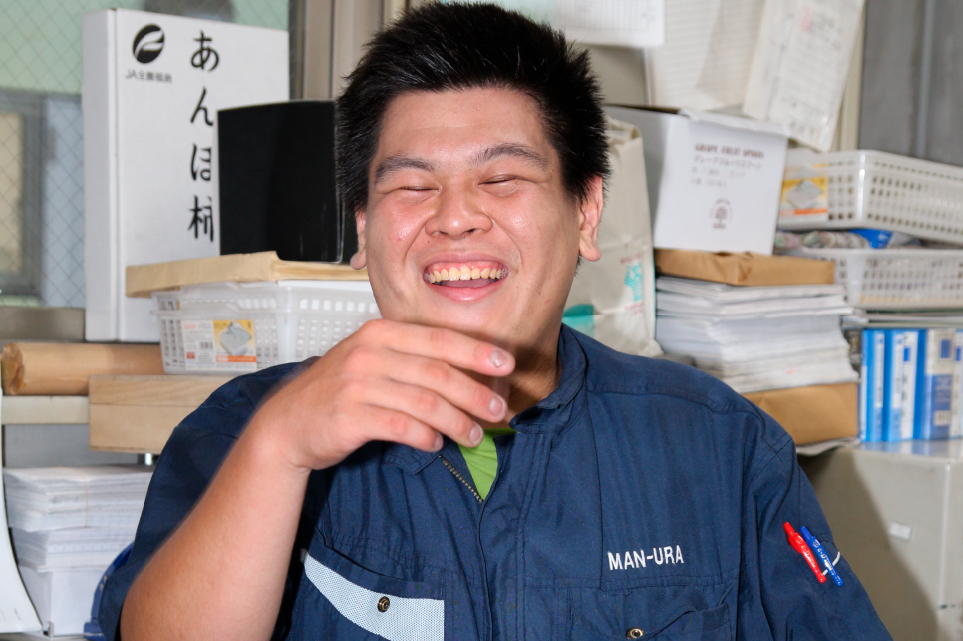 TSUTSUMI SENPAI 堤先輩
社会人になったなぁと思った瞬間は?
食の現場で働くようになって人間にとって一番重要な仕事をしている
という自信が持てたこと、そしてその責任を果たそうと努力している
気持ちが生まれた時に社会人になったなぁと思えました。
最近のお仕事について教えてください
私の仕事は東京の食のかなめである大田市場の中の青果市場で果物を
青果市場からターレーに乗って輸送トラックまで荷物を運ぶ仕事です。
おもに関東周辺の大型スーパーがオープンする前までに行う仕事のため、
夜中に働いています。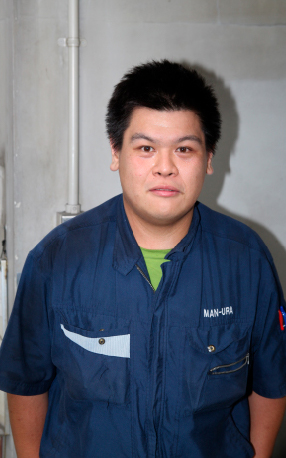 Application Requirements
Staff ★Monthly salary more than 310,000 yen / Family allowance / Housing allowance
No experience is required / No industry experience is required / No education history is questioned / Only an interview
Job Description
"We sort fruits and vegetables at the Ota Market."
Various fruits and vegetables are traded every day at the Ota Market. We sort out products there for each destination of supermarkets and retail stores.It is simple work as you will be instructed most of the time.
▼ou will receive instructions from the sales section
You will receive instructions from the sales section, who is responsible for adjusting deliveries to our clients, on how to sort fruits and vegetables that arrive on that day. You will then check on "how many of what products we receive from where" on that day, and "shipping time, products and handling delivery companies". After confirming all those information, you will make a day plan of your work. The leader will instruct you on the spot, and thus you can consult him/her about priorities.
▼Receive products and deliver them to the designated places
n the Ota Market, fruits and vegetables will arrive one after another from growing areas. Follow the instructions and go to the designated places to pick them up. There are staff of the Ota Market in every section. Once you get familiar with them, it is possible that they do a little favor for you by calling out, "Looking for your Mikan (Mandarin)? I have put the box out at the front for you." Basically, you will carry piled up goods with a forklift and that you don't have much physical work.
▼Quality and quantity checkups, followed by delivery
You will carry products to the designated pickup points of individual delivery company. By checking damaged products, quantity and type of products, you will stick seals that show destinations. The driver of the delivery service will come on time, and you hand the products over him. It will be the end of a day.
*/ We may receive urgent orders. Keep your work under control so that every delivery can be sorted properly on time. */ Sometimes you may have to move boxes by yourself if the products you need are at the back of some other products. There are many heavy ones as inside the boxes are fruits and vegetables.
Qualification Requirements
No education history is questioned .
*/ You will maneuver a forklift and its license can be obtained after joining us.
/ People from different backgrounds are active in our company, such as former truck drivers and those who were bidding as buyers of the original fruits shops.
Employment Conditions
Regular Employee
*/ During a trial period of two months, you will work as a part timer and 1,200 yen (1,500 yen for late night shift) per hour will be paid.
★Basically it will be a night shift work. We adopt part-time employment for two months to see if you will be able to coop with the night shift work or continue working in such a life rhythm.
Location
Inside Tokyo Metropolitan Central Wholesale Market,3-2-6 Tokai, Ota-ku, Tokyo
Access
20-30 minutes by bus from JR "Omori Station" and "Shinagawa Station" 10-15 minutes by bus from "Heiwajima Station", Keihin Kyuko Line 2 minutes by car from "Ooi-Minami" Extit of the Capital Highway Bay Line 5 minutes by car from Haneda Airport 20 minutes on foot from "Distribution Center Station", Tokyo Monorail
Working Hours
19:30-04:30 (8 hours)
*/ Overtime is less than 20 hours a month. Overtime can be a little longer during busy seasons such as July and August, and the end of the year.
Salary
310,000 – 350,000 yen per month
*/ The above mentioned monthly salary includes a fixed payment allowance of 30,000 yen and a fixed overtime fee (30 hours / 36,000 yen to 45,000 yen per month).
*/ In case of overtime exceeding 30 hours a month, extra overtime will be paid separately.
*/ Fixed overtime fee: it is a system that pays in advance with a certain amount of overtime payment included in salary regardless of actual hours you work. It does not mean that you will work overtime of 30 hours constantly.
Holidays
*/ Two days off every week (8 days off per month / according to the Ota Market Calendar)
*/ public holidays
*/ paid vacations
Welfare
*/ Salary will be raised once a year
*/ Bonuses will be paid twice a year (July and December)
*/ Transportation fees
*/ Family allowance (spouse: 10,000 yen per month, a child: 4,000 yen per month, from the second child: 2,000 yen per month)
*/ Uniform will be provided
*/ Private car commuting is possible.
*/ License acquisition support system for forklift
Days Off
*/ Two days off every week (8 days off per month / according to the Ota Market Calendar)
*/ Public holidays
*/ Paid vacations